IN THE BLOG

BATHROOM ETIQUETTE IN OUR NEW OFFICE -
who won the contest?
---
On 21st October we moved to our new office premises at UOA Business Park in Shah Alam. Before the move we held a bathroom etiquette contest to prepare everyone for an enjoyable working life. And we were amazed by the number and quality of the entries. It looks like bathroom etiquette is an important matter, and it also looks like we have got it sorted between us!
Here's what everyone said.
"I dislike users who don't flush, hate a wet toilet floor and don't like to see the shoe-prints of people who squat on the toilet seat. I hate seeing tissue paper inside the toilet bowl, think it's terrible that women leave sanitary products on top of the bin, and would like to give the guys who don't aim a lesson in accuracy!"

-- Nadzirah
"I feel that a dry, pristine looking restroom is a welcoming and hygienic place to take care of your personal grooming 'detoxification' activities. Everyone must endeavour to keep the restroom floor and sink counter dry and clean, to enable all our fellow colleagues to enjoy a safe and clean environment when attending to their needs. I also feels it's such a joy to walk into a fragrant and fresh smelling restroom.

-- Susan
"I think sharing toilets with men is a no-no. I dislike dirty and smelly toilets, and really hate using a toilet when someone else hasn't flushed properly and there is already something nasty swimming inside!

-- Zurinah
Jacklyn gets annoyed by flushing that doesn't take everything away – she says "please clean it before you leave the toilet. I do not want to know your digestive conditions!"
She also hates it when the toilet roll isn't replaced, especially when she has waited a long time to go, only to find the paper has run out. But there's more – how's this for a terrible story? As Jacklyn says, "I've visited a seafood restaurant by the sea. The toilet was so awful. There was no drain pipe that connected with the toilet bowl and yes, the faeces fell directly down into the sea. If you are lucky, maybe you can see some crabs or clams waiting... hmmm. Seafood is still my favourite, but maybe I won't visit that restaurant again!"
Alan hates a wet toilet floor and Vivien is annoyed by people who don't aim. Max says he has a lot of bathroom pet peeves, but he really doesn't like stinky smelly toilets and expects everyone to flush after use. In his words, "those who do not flush are really disgusting"
Tiffany's bathroom pet peeves are people who never learn to flush after going to the toilet, because it stinks up the washroom. She hates a wet floor, when it looks like someone has just had a bath. And why make a voice call when you are on the toilet? It feels very uncomfortable in the toilet when someone is making a call in there and you are sitting next door. Last but not least, she dislikes the way some boys never put up the toilet seat up and don't know how to aim at the toilet.
Jennifer came up with a beautiful .pdf full of pet peeves: unflushed toilets, dirt and grime, overflowing trash bins, improper sanitary waste disposal, empty loo roll and soap dispensers, offensive odours and shoe prints on toilet seats.
Syaz dislikes it when people let their hair clog the drain, let their poo float in the toilet bowl, leave a stink behind, strew toilet paper all over the floor or pee on the seat.
Tong Siew Lan hates to see graffiti on the walls and Niam doesn't want to see feminine products left hanging around. Velasari feels a low water level flush isn't good enough because it leaves a smelly toilet behind, and Carey's biggest bathroom pet peeve is offensive odours, plus water on the sink and floor.
Ida says her biggest pet peeve is footprints on top of the toilet bowl, "because it makes me really uncomfortable to sit on it", and Amy has a long list of horrible things she'd like to avoid: Stool stain in the toilet bowl, bloodstain in the toilet bowl, sanitary products thrown everywhere, wet and slippery floor. In her words, "I hope everyone takes responsibility to keep the toilet clean to show respect to yourself and others".
Daniel Phoon hates seeing centipedes in his house bathroom. When we Google-searched it we found out that centipedes do love damp places. So do pseudoscorpions, creatures like scorpions but without the sting. Insects are a sign of a place that isn't well cared for, and seeing insects in the bathroom is not good. He also hates not flushing after use. No one wants to see or smell what you did.
Our prize winners
We thought all the entries were really good, genuine and general. The ones that stood out most were Jennifer's empty soap dispenser, Daniel's centipede entry, Tong Siew Lan's thoughts on graffiti, low water pressure from Velasari and nasty hair clogging from Syazwati. But we were particularly touched by Amy's general plea to respect our communal space.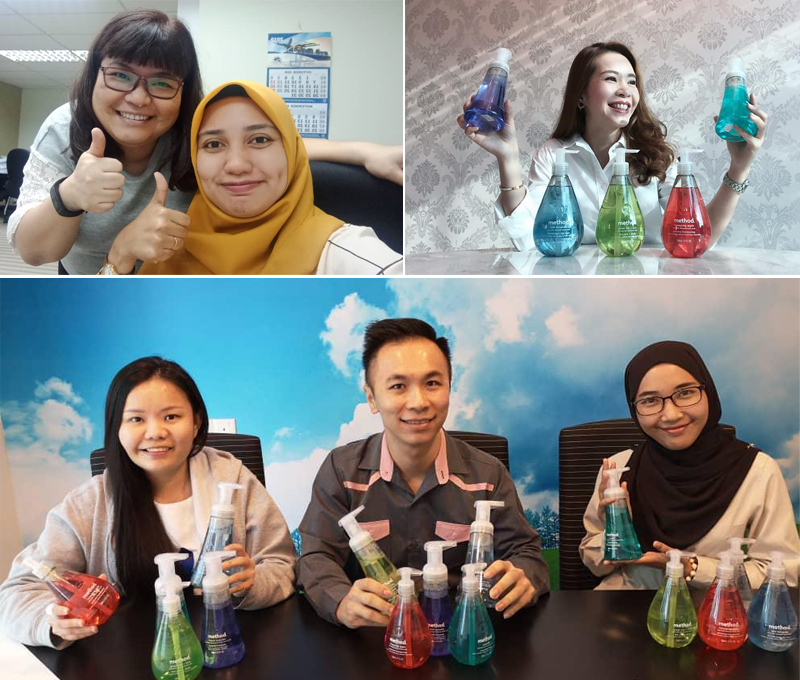 Top left: Tong Siew Lan and Velasari, top right : Jennifer Foo, bottom from left to right : Amy Tan, Daniel Phoon, Syazwati
Daniel's answer is creative. Damp, dirty bathrooms attract insects, and that's not good
Velasari's low water pressure idea means users can't flush effectively or wash their hands properly, which means poor hygiene
Tong Siew Lan's graffiti idea was another creative one - we all know how graffiti makes a space look un-cared for, and it's a public nuisance too - look at Barcelona!
Jennifer's empty soap dispenser is a great one, since being unable to wash your hands properly means a serious hygiene failure
Syaz's hair clog point is good, informing users that hair does not compose. Only human waste and toilet paper should be put down the toilet and absolutely nothing else - even if it says flushable!
Finally we'd like to thank Amy for her contribution, which covers the way we all feel beautifully: "I hope everyone takes responsibility to keep the toilet clean as it is also to show respect to yourself and others".
Helping business grow with confidence, and individuals protect their finances